Our admin staff attended a fair housing update webinar hosted by LeadingAge Oregon today, and with some quiche, fresh fruit, and coffee, it turned into a spontaneous brunch!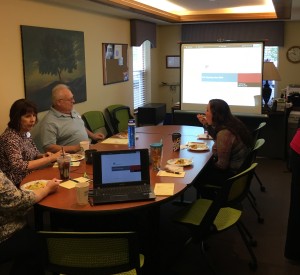 The webinar focused on discrimination against people with disabilities. After an hour and a half of examples, case law, and legal puzzles, it was wonderful to conclude the meeting by praising our staff for how well we've done to maintain a non-discriminatory environment. We even invite advocacy groups like Elders in Action to secret shop our community to keep us on our toes!
We agreed as a group that kindness and respect for our residents has to be coupled with ongoing education about the requirements of the law, and recommitted to making fair housing requirements a standing topic of discussion at our weekly staff meetings. It was interesting to note, however, that much of the law related to fair housing is decided in court following discrimination claims, rather than by legislature. Even a community that abides by all of the current rules may still have discriminatory practices. That's why the kindness and respect component is so crucial – we need to be careful to follow the intent of the law, and not just the letter of it.
Independent Living and Fair Housing
Often the term independent, when used in the context of independent living, is misconstrued to mean that individuals must be free from disabilities to live here. That is not the case! Independent, is used to show the level of services we provide directly to our residents, and places no limitations on the amount of assistance an individual can bring in through their own resources. Our resident population ranges from individuals who still commute to work every day, to individuals receiving end-of-life and hospice care. The beauty of an independent living environment is that we provide a relatively inexpensive platform which residents can then build upon with optional services and in-home care to suit their specific needs. Our model of independent living is all about connecting people to the resources they need to maintain an otherwise independent lifestyle.
Sadly, we noticed that the main source of this misconception appears to be current and prospective residents. We spent time discussing how we plan to further our education efforts, including a plan to address the resident council. We're also working on our script for when prospective residents inquire with us, to let them know that using the assistance of a mobility device or an in-home caregiver does not automatically mean that they need assisted living. If there's one lesson we took away from the webinar today, it is that providing fair housing is something that all of us – staff and residents – must work towards together.