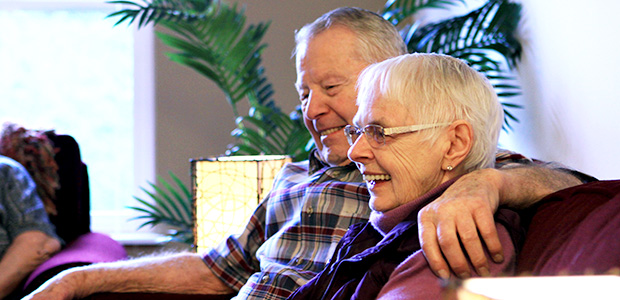 Active Community Living
Homewoods on the Willamette began as a dream in the mind of Clarence Knoepfle, an Evangelical pastor serving as superintendent to the Pacific Evangelical Conference of North America. Superintendent Knopefle envisioned a community where retired pastors could live affordably and comfortably in their later years. Today the Homewoods community does provide an affordable option in the Milwaukie  area, not only for retired ministers of the Evangelical conference but for people from a variety of vocational backgrounds who are looking for a place to retire that offers close community connections and affordability.
Homewoods on the Willamette is a four story, multi-plex, built on the site of a former retreat center. In addition to the river view, grounds, and gardens, the community is located minutes from over 100 wetlands and parks, fabulous restaurants, and local shopping. Rex Putnam High School is less than a mile from Homewoods on the Willamette as are movie theaters, churches of many denominations and fitness clubs.
Our community is convenient to all of the major medical facilities in the Portland area including Providence Milwaukie Hospital, Providence Willamette Falls, Adventist Medical Center, Legacy Meridian Park, and Kaiser Sunnyside.
Our Mission
Homewoods on the Willamette is a senior housing community resting on the banks of the Willamette River that offers a home like environment adhering to Christian values.
We value the sense of small town community and  history that Milwaukie offers and which distinguishes Homewoods on the Willamette.
We enjoy life in all of its abundance. Nature, family, celebration, and beauty are the essential elements of our community life. Each person who lives at Homewoods makes a difference by adding his or her unique contribution. Community values include kindness, service, recreation, and hospitality.